It's very easy to be a sports fanatic and say you want to work in sports. It doesn't take much to realize that it's a lot easier to say you want to work in sports business than it is to actually work in sports business. Those that don't know any better think sports business is a glamorous career path where you're constantly surrounded by star athletes and millionaire owners. Those of us that do work in sports know that it's often times the smelly mascot costumes and long seasons that sometimes feel never-ending. That being said, if you are able to find your passion within the industry, it can be incredibly rewarding and filled with great memories that will last a lifetime.
 Here are a few tips on finding your passion in sports business.
Broaden your scope.
Do your due diligence and make sure to get exposure to as many segments of the industry as possible, from sales and marketing to operations and concessions. The worst thing that can happen is that you decide a department is NOT for you. You can do this by seeking internship opportunities that have a rotating department schedule or looking for opportunities in smaller organizations that may need an extra set of hands anywhere they can get one.
Do not make the mistake of limiting yourself to one level of sports (professional, collegiate, etc.) or one specific sport. Sports business experience can be transferred across the board, so do not rule out a great opportunity because it is not exactly what you think you want. Lastly, working in sports requires you to interact with all departments across the organization, so understanding what everyone does will only make you a better team member when you do find your place in the industry.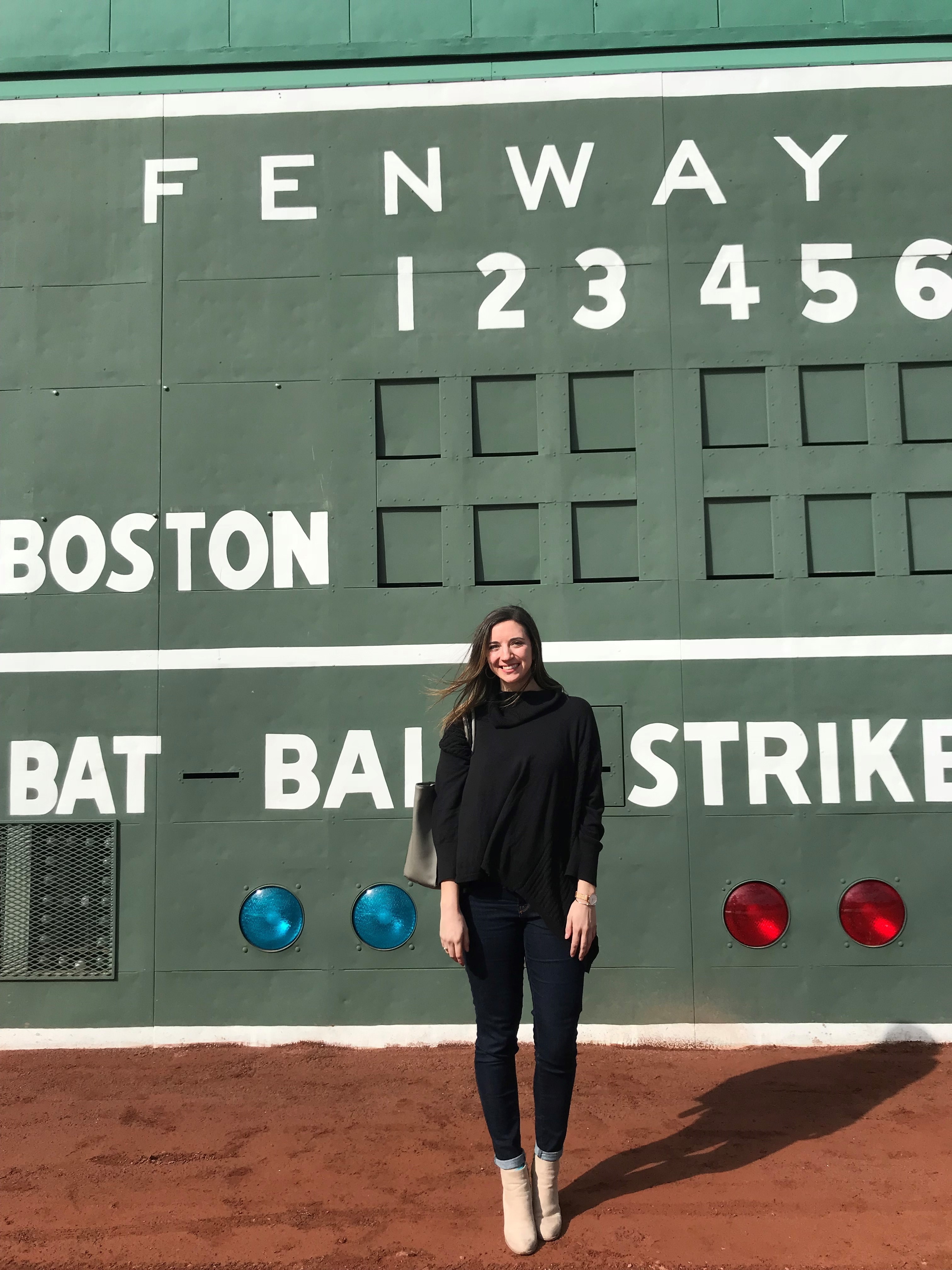 Hannah at Fenway Park
Focus on where you can make the biggest impact.
Be conscious and critical of your innate strengths and weaknesses and analyze how those qualities align with the different career paths within sports business. If you are great at talking to strangers, sales or services might be a good place to start. If you think very logically and strategically, operations could be a good fit for you. The list goes on and on. Ask your friends and professors what they think your strengths are, and that could help light your path as well.
Long story short, if you love doing it in your free time, you should think about how that can transfer to your professional life in sports.
Look for things you enjoy. 
Think about the activities you like to do in your free time, and the different extracurriculars you are involved in. These are the things you love to do and chose to do with the small amount of leisure time you have in your day. More often than not, you can find a similar role within sports business. If you design t-shirts for a club you're a member of, consider a path in merchandise management. If you love to volunteer in your community, look into getting involved in community relations. If you have a blast strategizing social media content, marketing could be a great fit for you. If you plan socials for your fraternity or sorority, your passion may be found in special events. Long story short, if you love doing it in your free time, you should think about how that can transfer to your professional life in sports.
Between a liberal arts experience in sports, a critical analysis of your strengths and weaknesses, and consideration as to how you spend your free time, you should be able to find your passion in sports business in no time!
Hannah Butler is beginning her fourth year with the Triple-A Affiliate of the Boston Red Sox in 2021 after two seasons of coordinating premium hospitality for the ball club, and one year of operating special events. She was promoted to Director of Special Events in the fall of 2019, overseeing the booking and execution of non-game day events at McCoy Stadium and Polar Park. Hannah plans and executes over 150 events throughout the year from meetings and batting practices to large-scale festivals and concerts. She's also a mentor in theClubhouse and you can schedule a call with her here.