Why do people go to events? For some, it is to see their favorite sports team partake in competition, for others it's to see the latest & greatest music artist perform, and for most it's to embrace the energetic atmosphere that erupts throughout while surrounded by hundreds to thousands of strangers who share the same passion and interest as one another.
Most people go to events to experience a release in life, providing the one moment throughout their day, month or year to not have to think about the world around them and to just feel like a kid again. That release and excitement is what ignites the passion event goers have deep inside them. When it comes to sporting events, that passion is particularly even more-so. I mean, have you ever been next to a sports fan at a game and their team scores a winning goal, touchdown, home run, etc.? I for one have hugged and high-fived strangers around me when my Buckeyes score, and it is all because of one thing. Passion.
The goal is to educate the consumer on what the brand can offer that provides value to them, slowly guiding them down the path of consideration.
This passion does not live or die whenever it enters an event complex however and it does not only stem to the sports team a fan roots for. Brands have long ago realized that fans are more likely to consider purchasing their product or services when they sponsor a team or athlete they associate with. Fans trust their favorite team and when that team has primary sponsors, that trust & interest trickles downward to the brands.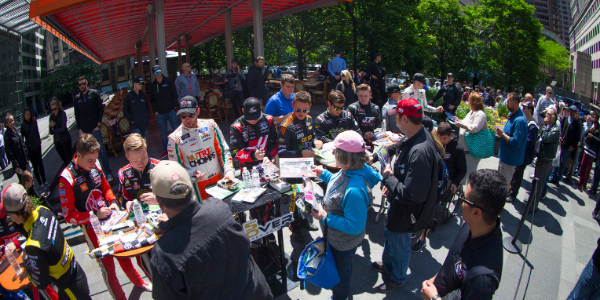 Experiential Marketing in Motorsports
Sponsorship has many levels, and they are often determined by the key segments the brand is looking to attract. Their core marketing & business objectives drive what level of activation makes sense. Some brands want the exposure that comes with a partnership, whereas other brands want to get directly in front of their prospective consumer.
That is where experiential marketing comes into play. Here are some keys to doing it well
Aim to develop trust
If you have ever attended a sporting event, I would be willing to bet you have seen various sponsors setup throughout the venue, trying to bring you into their space. The majority of these sponsors utilize free items, games and/ or sweepstakes to entice fans to interact and it works! It goes back to wanting that feeling of release and the trust they have begun to already develop with these brands. Fans want to play games and they certainly want to win free items. This is a win / win for both them and the brand.
Educate them and be memorable
Getting fans into the space however is just one part to the equation. Once they are in the space, it is up to the brand to become memorable and to provide those whom come to interact an experience that they will not forget two minutes after walking away. The goal is to educate the consumer on what they, the brand, can offer that provides value to them and to begin guiding them down the path of consideration. One thing some brands have come to realize however is that consumers are not at the event to buy their offerings. They are there to have fun and you are now a part of that fun experience, so do not try to forcefully sell. This moment is to again, become memorable.
Focus on the experience, not the sale
Experiential marketing is a way in, but it is not a direct line of selling. It is meant to conjure up prospects and a way to gather information while educating in an effort to perhaps convert the consumer into a customer one day. Experiential marketing provides a unique opportunity to not just slap a logo somewhere but to get the product & services into the hands of the prospective customer. To allow them to test drive it, just like going to a car dealership and testing the vehicle out prior to making a decision. Once the education is there and the goods the brand is providing have been tested, consideration levels begin to peak. Consumers begin to realize at times that "hey, perhaps this will make my life easier". It is a natural setting for brands to tap into that passion while subtly pulling that passion into their offerings.
Remember it all comes down to a few rules for brands. Do not try to forcefully sell, learn what drives the passion for the consumer and make it fun. That is what makes brands memorable for consumers who just want that release.
Seth is the Director of Partnerships at Evolve Solutions located in the greater Cleveland, Ohio area. His role at Evolve encompasses partner relations throughout sports organizations with a primary focus in motorsports. He assists in the development of marketing materials and social media strategy. Prior to his role at Evolve, he was with GMR Marketing in New Berlin, Wisconsin for five years managing Xfinity's NASCAR sponsorship; where he focused on branding, contract negotiations/management, experiential executions, athlete relations and PR. He's an Ohio native and he went to Defiance College for Sport Management while also playing collegiate football for four years for the Defiance Yellow Jackets. His interests revolve around fitness, sporting events, networking and exploring new places. Seth is also a mentor in theClubhouse and you can schedule a 1:1 chat with him here.