I've been around a long time and over the course of my tenure in sports I've seen many people come in and out of the industry. Some have staying power, some are a flash in the pan. Some are committed, some aren't. Regardless of what you're looking to do, I wanted to share some of the common mistakes I see being made by young sports business professionals today.
First, let's talk sales for all you salespeople out there.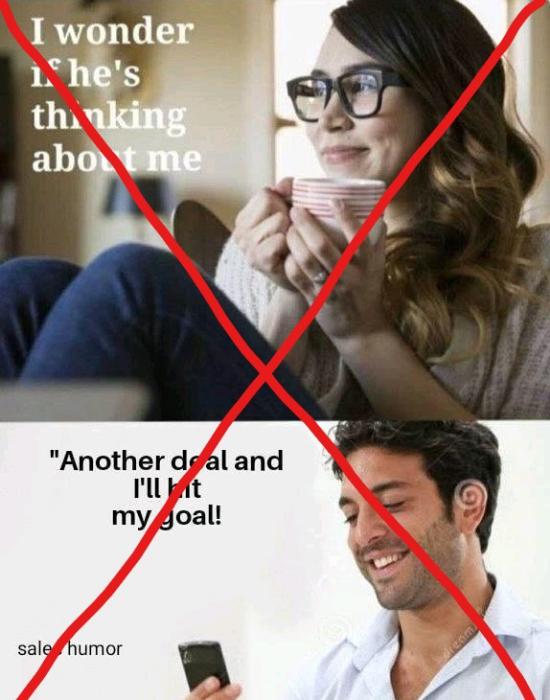 Image credit: Sales humor - https://www.facebook.com/SalesHumor/
Don't make it about you.
Too many young reps make the focus in the sales process about them. Too much focus on the actual sale, rather than on the client's needs and offering the best solution, is an all-too-common mistake people make. This can hurt your ability to accomplish your sales goals. Become less transactional and be willing to walk away if the fit or solution isn't there. If it doesn't feel right to you then it probably isn't.
Be yourself.
Don't be too robotic with your outreach. If the tone of your voice on a call is unsure or too "salesy", chances of success diminish greatly. Be willing to experiment with different outreach methods to find what works best for you and your style. Authenticity is vital and if you don't believe in what you're doing or how you're doing it, that confidence won't shine through.
Be more strategic.
When prospecting, take more time to vet out the right client. Not all prospects are created equally, and you should invest your time where you get the greatest return. Volume in outreach is important but there should be some selective process/criteria on why this client makes sense for you to reach out to as well. At times, I find myself going after brands I use or really like, it makes the connection more authentic if you can be a brand ambassador.
Now, let's talk about career growth.
Take more time to build fewer, more genuine relationships.
It's not about quantity, it's about the quality of your relationships.
Take more time to build fewer, more genuine relationships. It is like dating, not everyone is going to see your value or like you. Being assertive is important, but it needs to be done with tact, purpose, and confidence. If you're transactional with your relationships, trying to go fast, not getting to know people and only reaching out when you need something, that insincerity will come through and could actually hurt you down the road.
Get to know them first before you ask them for something.
If you need a job referral or recommendation, be sure that you have built up enough equity and have respect from the person. I made the mistake early on in my career of asking for favors early in the relationship. The only way it works is if the relationship is close personally and professionally. That person needs to be able to truly vouch for you and it's hard to do that after one or two conversations. Invest in getting to know them on a deeper level.
Hope these help and good luck to you #sportsbiz professionals out there!
Andrew
Andrew Papaefthemiou serves as the GM of corporate sponsorships for FlU athletics in Miami, FL through Van Wagner. Van Wagner is based out of New York City. Prior to FIU, Andrew was a Director of Partnership Marketing for Kroenke Sports & Entertainment. In addition, he spent 5+ yrs at Learfield/IMG College managing Seton Hall, Lehigh and Patriot league properties. Andrew is a NH guy, a former college basketball coach and was a walk-on college player as well. The underdog mentality has helped him throughout his career, and continues to drive him in this competitive field. He's also a mentor in theClubhouse and you can schedule a 1:1 call with him here.