My first job after college, in the Summer of 06', was selling tickets for the Phoenix Suns (NBA), Phoenix Mercury (WNBA) and Phoenix RoadRunners (ECHL). The position itself was "Sales Consultant" and our job was to reach out to prospective buyers and attempt to sell them a ticket plan, group night or premium product for one (or all) of our sports teams.
No joke, my first day on the job was Game 6 of the Western Conference Finals. The "Run and gun Suns" led by Steve Nash, Amare Stoudemire and Coach D'Antoni were not only fun to watch but were incredibly talented, and at the time were a perennial title contender. They were playing the Dallas Mavericks and were on the brink of going to the NBA Finals. Needless to say, in Phoenix it was Suns-mania.
I had never been in sales before but had waited tables through college and was comfortable talking to anyone. As a former athlete I was coachable and results oriented. I loved sports, was very ambitious professionally and confident I could do the job. I remember thinking to myself… Selling sports is going to be easy, especially this team! I mean, how hard could it be, right?!
Well for those of you who have been though it, you will agree with me when I say… It's not easy, and I was humbled, quickly. Less than two months later I remember calling my parents. I was discouraged, I had lost confidence, I was struggling and questioning if I could do it. Eventually I got through it and wound up with a great 8-year career on the team side with the Suns and LOVED it.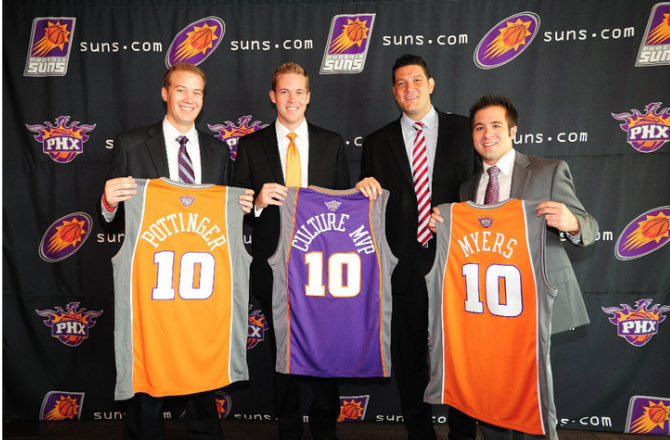 Bob at the Phoenix Suns circa 2010
Although I made it through that tough patch, there are some things about sales that I wish I knew prior to taking the job, it would have made things a lot easier that first year. I'm certain there are aspiring sellers out there who aren't fully prepared for their future sales job(s). My goal with this post is to highlight some things about sales (and sports sales) to be mindful of, in hopes that it helps you better prepare and succeed in the role when you get it. Hope it helps!
Rejection is difficult 
The inside sales role we had was a lot of phone work, 100+ cold calls a day and we were dealing with hang ups, no's, and getting yelled at just about every day, even with a great team. It's one thing when they ask you in the interview if you're ok with that, it's another to hear it all day on the phones. Look at each call and sales touchpoint as a learning experience. Change your mindset, we're all going to deal with hang ups and rejection, it isn't you so don't take it personally. All you can do is control your side of the process, if you do that as best you can, it shouldn't matter how it goes and if they say yes or no. It's all part of the process.
"Focus on one call at a time, and on your attitude and technique. Your sales number shouldn't dictate your energy level and body language"
It takes time, and practice 
I'm always surprised by how little practice goes on within sports sales teams (and within other sales teams, too) after the initial onboard. Much like an athlete taking BP, or hitting golf balls on the range, they do that to warm up and sharpen their skills so when they get on the field they can execute. With the best, the product you see is the result of hours and hours of practice reps. You aren't going to roll into the job, pick up the phone and sell like Zig Ziglar. Practice your technique each day and continue to work at it. It will come in time and don't expect it to happen right away. Be sure to set realistic expectations for yourself going in.
There are extreme ups and downs 
You might have a great day, and then get crushed the next. You could be on a high after a great appointment, and then demoralized when the sale falls apart. The highs and lows are part of it but don't ride the wave. Be consistent throughout. Don't look at the numbers, look at the process. Focus on one call at a time, and on your attitude and technique. Your sales number shouldn't dictate your energy level and body language. Come in with the same can-do attitude each day and try and get better. If you ride the emotional roller coaster it'll be tough to stay consistent with your results.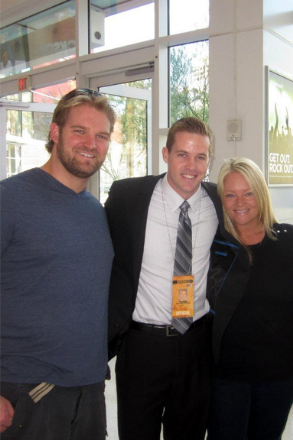 Bob with clients at the Suns
People don't call you back 
When you call your family and friends, they call you back (ok, maybe now-a-days they text back), regardless, people you know get back to you. People you don't, probably won't. Calling and leaving a bunch of voicemails or canvasing a game in mass and passing out your business card to everyone is bad technique. Don't do that and wait for them to call. I used to think that was good. Don't take it personally when they don't respond, they won't. Ask yourself, when's the last time you called back a total stranger, or returned a sales call? You need to be proactive but be creative, and make it about them. Try and connect over things that are important to them and leverage the team, current events, and your common interests to get them engaged. If they buy into you first and don't think of you as a seller, they are more likely to buy what you're selling.
Don't think of yourself as a salesperson 
My assumption of sales was the person that called our house at dinner time and my mom promptly hanging up on them. Or the person in a slick suit trying to sell us a car that was more expensive. I never wanted to be "pushy" or pressure someone into buying something they didn't want or need. You don't necessarily need to do that to be successful. Change your mindset, don't try and sell them, aim to get to know them and show how your product helps them. I believed so much in the experience at a Suns game, and the power of sports and entertainment, that I thought I was doing these people a disservice if I didn't do everything I could to help them and their family experience that too. You don't need to be pushy, but instead be proactive, be professional, build relationships and help people. The sales numbers and commissions should be secondary to helping others. That "salesy line" or desperation will seep through the sales process and can turn people off.
I never thought I'd be in sales and it turned into a career that I loved and found much success in. But I'd be lying if I said there were never days where I questioned if I could do it. Really think through these things and the day to day of the job before you jump into it. It's a grind but look at each day and each call as a learning experience and stay positive. If you do, I'm confident things will all work out for you in the end. Good luck!
-BH
Bob Hamer is the President and Founder of SBS Consulting and creator of theClubhouse. SBS provides sales training, consulting and leadership development for sales teams throughout North America and through theClubhouse they provide educational content and career services for current and aspiring sports industry pros. Prior to this role, Bob was the Vice President of Ticket Sales and Service for the Phoenix Suns. To learn more about SBS visit sbsconsulting.us