*This article was initially posted on Anthony's personal blog at https://salesinsports.com/
Let me start off by saying I'm a big "phone guy." When in doubt, I pick up the phone and call a prospect or client. However, I admit that email is still a huge part of Sales in Sports.
According to EmailAnalytics, 86% of working professionals prefer email as a communication medium. And salespeople spend 21% of their days writing emails!
In this day in age, sellers tend to rely on email to get more sales – whether that be prospecting for a new client or following up on a warm lead. Since we are spending a lot of time typing away on a keyboard, it is critical that we tighten up our process.
There is a difference between writing an email and writing an email that gets a response. So, let's dive into seven things you can do to get more responses:
"There's a difference between writing an email, and writing an email that gets a response."
1. Write Like a 3rd Grader
This is going to sound strange, so bear with me: I am advocating that you should write like a 3rd grader.
According to Boomerang, emails written at a 3rd grade reading level receive the highest response rate. And get this: emails written at a kindergarten or high school level receive a higher response rate than emails written at a college level.
Full transparency, this one took me a bit to come around to. We want to use fancy words and "smarter" phrases in our emails since we think it will impress our prospect or build credibility. While doing this is not always a bad idea, the statistics show that if you want to get more email responses, you should write like a 3rd grader.
For what it's worth, try giving it a shot. When you're drafting your next sales email and considering a fancy word or two, just go without them. Think about your reader – some people won't know some of these "smart" words or sentences – how do you think that makes them feel when reading?
Keep it simple!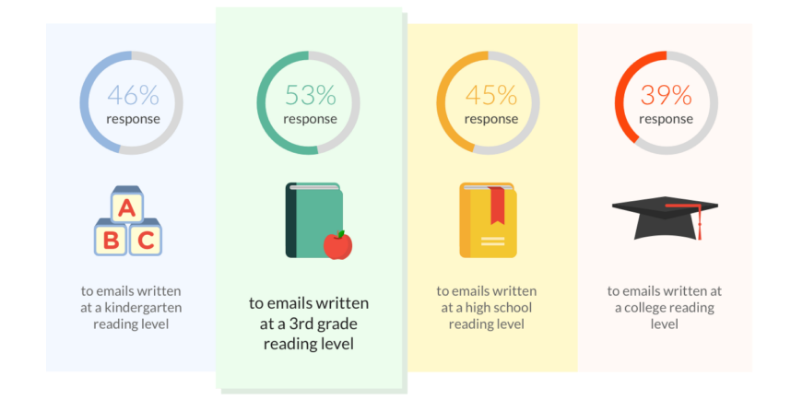 Photo cred: Sales in Sports Blog
2. Create a Personal Subject Line
We can all relate to our inbox getting slammed from time to time. You have your emails from companies you subscribe to, emails that you're not so sure about, and then emails from salespeople.
The very first thing a reader sees is the subject line. So, consider this: emails with a personalized subject line generate a 50% higher open rate (Source: EmailAnalytics). And of course, a higher open rate will lead to a higher response rate.
Personally, I've always used the recipient's first name followed by a hyphen and then a brief topic. For example, if I'm sending a cold email to a big decision maker at a company I'm prospecting, it might look like this: "John – D-backs Suite." I tend to think that someone sifting through hundreds of emails will catch sight of their name, along with a brand like a sports team.
We can easily get in the habit of using a subject line that we've "always used." And if that subject line is generic or weak in the eye of the recipient, we need to adjust ASAP! What sounds good to you may not catch the reader's eye when sifting through countless emails.
Bottom line, put yourself in your prospect's shoes and get creative with your subject line.
3. Respond Quickly
Think about the last time you received a contractor's estimate. Or the last time you sent an email to a customer service department. Were you hoping for a quick response? Yes. Did you get a quick response? Probably not.
However, take a moment and think about the last time you did receive a speedy response. I bet you remember it vividly.
Here's my example: I can remember getting five pool renovations quotes. Ultimately, the contractor I chose was the one who set a timeline for his proposal email and delivered sooner than expected. Not surprisingly, the four other companies lagged significantly.
Admittedly, we're not always going to have time to be the quickest with every single response. Nevertheless, statistics show that the quicker you are to respond in an email exchange, the more likely you are to have success. According to EmailAnalytics, following up within an hour increases your chances of success by a factor of seven.
It only makes sense, right? If you're responding to a prospect inquiring with your team, they're looking for answers right then and there. The sooner you get back to them, the more likely they are to be impressed, or have their inbox still open ready to shoot you another note.
"Understand that your reader probably doesn't want to spend several minutes interpreting seven paragraphs and wordy language."
4. Provide Visuals
There's a reason Instagram exists and there's a reason why authors tend to include pictures in their articles. Heck, there's a reason why I include pictures in my articles!
Without question, using visuals in your emails will get you more responses.
I know sellers who love attaching PDF's of pricing or schedules in their emails. That is totally fine. However, I think screenshotting and including those visuals in the body of the email will get you better results.
Imagine all of your prospects who might be opening emails on their smart phone. Will some of them open the three PDF documents you attached? Yep, a few. But will more of them see your visuals if they're included in the body of the email? A resounding YES.
Whether it's a 3D view of a season ticket location or a screenshot of your seating map, get in the habit of including these in the body of your email to grab your reader's attention.
"There's a difference between writing an email, and writing an email that gets a response."
5. Be Concise
Have you ever been to a restaurant with a food menu that's 12 pages long? How about a restaurant with a one-page menu? Chances are that you get lost in the longer menu and that your decision is easier with the shorter one.
First off, we're all sifting through countless emails. With that in mind, understand that your reader probably doesn't want to spend several minutes interpreting seven paragraphs and wordy language.
Second, your goal is to make it easy for the prospect. If you're sending a proposal after a productive meeting, be sure to include only what's important – and leave the rest out. Be sure to include specific options and don't get caught up with covering every single detail (unless specifically requested). And when you're including options, keep it to two or three. Again, make it easy for your prospect.
Your chances of getting a response increases when you stay concise. Remember, while you might think all of the details are absolutely crucial to include, that likely isn't the case for your prospect. Keep it simple and know that you will have more opportunities to dive into other details.
6. Be Specific
One thing I learned in Inside Sales with the Tampa Bay Rays was to always "be specific" and make a recommendation. In ticket sales, a lot of this meant pitching an actual Ticket Product, a Seat Location, and a Price. It was always our goal to come away from a phone conversation having done those three things (Dan & Marc, thank you!).
The logic was that if you made a very specific recommendation, you would then have very specific feedback from your prospect, and you'd have a clear next step – a step to get you closer to the sale. Whereas, if you were vague about your product, then your response was likely going to be vague too.
Not surprisingly, the same goes for emails. Don't just send a seating map, pricing, and a schedule to your prospect. What are the chances they're going to respond to that? Not great.
Instead, craft your email with specific options for your prospect. At the end of the day, you want to give them something more tangible, something they can look at and say "Hmm, this option looks really great," or "Hmm, a little pricey for me and I think the bleacher seats might work better anyways – let me see what he's got in Section XXX."
Similar to being concise, you want to make it as easy as possible for your prospect to respond. Be specific and you'll do just that.
7. Ask Questions
According to Boomerang, emails that contain one to three questions are 50% likelier to get replies than emails without any questions. No-brainer, right?
Do you always have to end an email with a question? No. For example, if you had already set a follow up call or appointment with your prospect, it could be silly to squeeze a question into the email.
However, the general rule of thumb is to include one to three questions so that you elicit a response. Whether that's "What option do you like best?" or "You did mention your son – do you think he would enjoy being closer to the team bench?"- it's important to include smart questions where appropriate.
Think about what that means for your style of email selling and do a quick self-check – are you always using questions or is that something you can do a better job with?
If we reflect on our email selling process, there are bound to be things we can improve on. Personally, I can do a better job of being concise and "writing like a 3rd grader."
Really think about it! If we're spending hours per day sending emails to prospects, we should also take time to fine-tune our craft. We all get into bad habits over time and we need to course-correct every once in a while.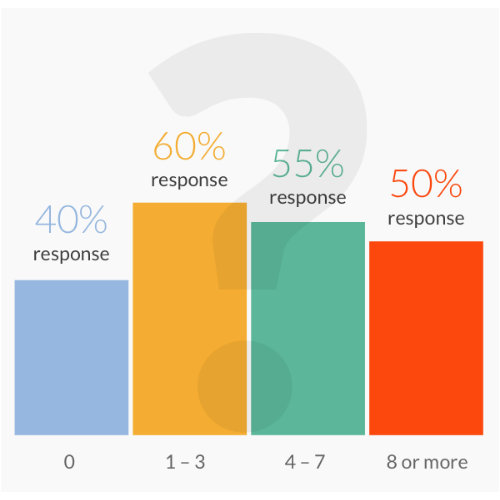 Photo cred: Sales in Sports Blog
Be sure to keep these seven tips in mind and let me know if you have other thoughts on getting more email responses!
Happy Selling!
–Anthony
Anthony Parilla is the Sr. Manager of Sales & Retention at New Orleans Pelicans & Saints. He's been in sports for 10+ years and has held jobs with the Saints, Pelicans, Rays, Diamondbacks, IMG Academy, and he's dabbled in a little bit of Real Estate as well. He's a leader in the industry and a wealth of knowledge in sales tips and best practices. He writes a personal blog here: https://salesinsports.com/ where he covers topics relative to sales in sports. We encourage you all to check it out! You can learn more about Anthony on his LinkedIn profile by going here.