After completing internships, participating in on-campus activities and networking with sports executives, you have finally received and accepted a job offer to begin your career in sports sales.
Congratulations! The toughest part is out of the way, correct?
Yes and no.
While securing your first job in the ultra-competitive sports industry is a huge accomplishment and something in which you should take great pride, the hard work is only beginning. Not to scare anyone away, but in many aspects, Inside Sales is the toughest job you may have in your sports sales career.
Why is that?
In short, you are often a seasonal employee in a new city, competing against a group of equally hungry entry-level sales representatives who all have the goal of securing one of the few available full-time senior level sales positions within your respective organization.
So, what does it take to dominate in Inside Sales? Let's dive in:
1. Positive Attitude
Working in sports is a blast, but the day-to-day responsibilities can also be a grind. As much as we all want to see our team finish a season undefeated, it just does not happen in professional sports (unless you worked for the 1972 Miami Dolphins). As a salesperson, control what you can control.
Whether your team is on a hot streak or a big losing streak, having a positive attitude is key. If you receive a call from a mopey salesperson, how likely are you to buy from them? Chances are, not likely.
How does one maintain a positive attitude?
Get pumped up every day before you walk into the office. Jam to your favorite song on the drive in, do some pushups, having your morning coffee, whatever it takes for you to find a positive mindset, do it. HowHowAlso, be a team player. If your colleague closes a sale, congratulate them on their success and use their win as fuel and motivation to be the next sales rep on your team to sell something.
"Pay attention during your onboarding, ask questions, tackle your sales roleplay sessions head on and work to get 1% better each day."
Sales includes a high number of voicemails, objections, rejection, and getting hung up on. If you have a great call, build on that positivity. On the contrary, if you have a rough call, clear your mind, and have a "next call mentality". The next one will be better.
2. High Motor and Competitive Drive
As we continue to control what we can control, put yourself in a position to never be outworked. Inside Sales provides organizations the ability to project if an entry level rep has what it takes to hold their own in a senior level role when the training wheels are removed. Inside Sales is a numbers game. From revenue to touchpoints, your stats on the leaderboard are a direct reflection of your productivity.
The more touchpoints (calls, appointments, emails, LinkedIn messages, texts, outreach attempts via social media) you complete, the more sales opportunities you will generate. Additionally, the repetition of your craft will build your sales confidence and allow you to develop your own sales style. We are not robots. Use your personality to your advantage during your outreach.
The dream of becoming a professional athlete ended for each one of us at some point in our lives. With that said, how enjoyable is it to be able to continue fueling your competitive juices in your professional career? There is a reason many people who grew up playing sports have found their ideal career is in sports sales.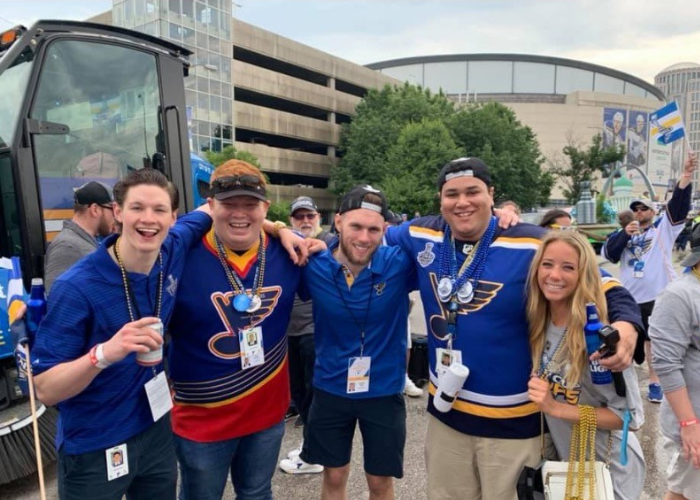 Brendan and the Blues sales team
As an Inside Sales Representative, you are fighting to take a senior sales rep's job. As cutthroat as that may sound, it is not intended to be. Strive to not only be at the top of the Inside Sales leaderboard, but also work to outproduce senior staff members as well.
Maximize the "money hours" (usually 8:30am-5:30pm) and make that one final call before you close shop for the day.
Prepare for tomorrow, today. What follow-up calls and sales meetings are scheduled for the following day? Who is on your list of calls for tomorrow? What else is taking place during the money hours that could limit your time for productive outreach? Be prepared for what the next day looks like before you leave the office the night before.
3. Coachability and Openness to Learning
Most entry level sales reps have minimal to no prior sales experience when they begin Inside Sales. That is okay! Your Inside Sales Manager is there to help. Knowledge, skills, and consistent practice are necessary towards becoming a successful sales representative. Pay attention during your onboarding, ask questions, tackle your sales roleplay sessions head on and work to get 1% better each day.
Your Inside Sales Manager is an asset who wants you to succeed, and they know what it takes to be successful as they were once in your shoes. Stick to the fundamentals, buy in, and continue to add layers to your foundation as your sales confidence grows.
The desire to improve extends beyond the onboarding and training that is provided. Webinars, books, podcasts, etc. are one click away. The outlets to learn and further develop your personal and professional skill sets are endless. Take time outside of work hours to add to your sales knowledge.
Utilize your colleagues as well. What is someone else doing that is leading to success? Sales departments are competitive, but they are also a team environment. Don't be afraid to pick the brain of the top sales reps on staff.
4. Develop Quality Listening Skills
How many times throughout the day are you acting like you're paying attention during a conversation, but you're really focused on something else? Periodically throughout a conversation, if you were asked to recite what someone said, how often could you do it? We've all been there.
In successful sales conversations, a prospect is speaking much more than the salesperson.
Why? Because the purpose of the conversation is to glean information about the prospect to evaluate a potential fit. By listening to the prospect, a salesperson will gather useful information that can lead to quality impromptu follow up questions and the information received will be used later in future calls and meetings during the sales process. Pay attention!
5. Fearlessness and Grit
In sales, we contact hundreds of people we don't know each week with the goal of securing a time block on their calendars to discuss how we can work together. Unless a time to connect is already set on the calendar, our prospects do not wake up the morning of our outreach expecting to hear from us.
Sales reps have a very short window at the beginning of a cold call with a prospect to not only gain but keep the prospect's attention. Be confident in your service, use testimonials, and secure time on the prospect's calendar for a meeting.
"Through the long hours, rejection, and tough losses, at the end of the day, we're selling and providing services that are fun."
Our outreach is technically never at a good time for a prospect, but the overall value a consumer or decision maker of a company can gain through a brief conversation with us far exceeds what is gained if no conversation takes place at all. Your title does not matter. You can be one day or 20 years into your sales career. You can be a quality sales rep in either scenario. Act like it!
If you receive a "no", it may not be a "no" forever. Find out if it makes sense to connect again in the future, ask for referrals, and move on to the next prospect. One more reminder, ask for referrals on every call.
The proof is in the pudding. Our services work for consumers and businesses every year. Millions of fans would not spend their hard-earned money attending our events each season if the received results were not up to the desired standards. Ooze confidence during every touchpoint.
6. Consistency via Time Management
In most Inside Sales classes, there are a few people who start hot right out of the gate and others who struggle to find their footing. Working to maintain a consistent sales and productivity track record will increase your confidence on every phone call and at every prospect meeting.
Sales reps whose sales trackers display too many peaks and valleys tend to stray from the fundamentals, cut corners and become desperate. A prospect can sense the desperation on the phone.
How do we find consistency?
Develop strong time management skills. Earlier in this blog, I mentioned the "money hours" of a day. Peak productivity must take place during this time of the day. Set up call blocking and power hours on your calendar, avoid distractions (social media for personal use, ESPN, office banter) and find a rhythm in your process. You will thank yourself later when your sales numbers begin to rise.
7. Network
Networking is important inside and outside of the office. Game plan to meet a few people in your organization each week. Find out what they do, why they are successful and why they continue to work at your organization. This feedback will provide you quality insight as to what it takes to be successful and how to become an ideal employee.
What about outside the office?
Building your personal brand as a resource at your team is vital, especially if you are moving to a new city and do not already have potential contacts in place to lay your foundation.
Attending networking events and/or joining a Chamber of Commerce will not only allow you to meet other business professionals, but also establish your personal brand as a resource at your respective team and arena facility. Genuinely invest in not only securing leads for yourself, but also be a resource of referrals for others. In time, the relationships you develop will be fruitful.
8. Be the Expert
Every Inside Sales program is different. Some teams may only provide one product for you to sell. Others may provide you the luxury of selling the full menu of products your organization has available.
If you are a full menu seller in Inside Sales, the ability to pivot based off the information gathered throughout a conversation is a helpful skill to develop.
How can a salesperson best help themselves pivot? By knowing every detail of every product your team has available. Weekly sales role play sessions and product knowledge blitzes will limit the number of questions a prospect may ask that you cannot answer.
Every time we provide a recommendation to a prospect, quality evidence must be provided as to why we are making the recommendation. Be prepared to confidently present the ins and outs of every product available at every sales meeting.
9. Have Fun!
Having fun is listed last on this list, but that doesn't mean if should be viewed as the least important! If you're fortunate to secure a job, have fun every day. Through the long hours, rejection, and tough losses, at the end of the day, we're selling and providing services that are fun. The reason why the sports industry is so competitive is because there are so many people who want the job you have. Make the most of the opportunity.
If your Inside Sales experience is anything like mine, the members of your Inside Sales class will be your friends for the rest of your life. Work hard, learn from your mistakes, control what you can control and have a blast selling a product that continues to positively impact lives every day.
Good luck!
Brendan Spina is the Manager, Inside Sales at the St. Louis Blues. His focus is recruiting, hiring, training, and developing entry level sales representatives, leading the reps towards a potential internal or external promotion into a full-time senior level role. Brendan has worked in sports sales since 2013 with stops at the St. Louis Blues, Cleveland Browns and Orange Bowl Committee along the way. Connect with Brendan through theClubhouse mentor program by scheduling a call here.