The year is 2011, and I am a Junior at the University of San Diego. I'm eating way too many Rose Donuts as I dream of one day owning a Major League Baseball team.
That student, who I'd tell to keep eating those donuts because there are none better in the world, would go through many ups and downs while embarking on his career journey. This journey brought me to where I am now, where I help oversee Partnerships at Omaze - a company that has helped raise $150M for Nonprofits through experiences and prizes with partners like Tom Brady, Virgin Galactic, and George Clooney.
When Bob and The Clubhouse team reached out to me to join this incredible team of mentors and write a blog about the industry, I took a step back and thought about all of the amazing conversations that I have had thus far due to this program.
One topic that has continued to come up throughout is the question, "What would you tell yourself at the start of your career that you didn't know then but know now?"
In this blog, I'll walk through what I would tell myself a few years back - sitting in Mission Beach - as I look forward to what is next.
Go Beyond Networking.....Be A Friend
Our industry is filled with such incredible people - who come from all walks of life and are driven by the passion for helping advance something they love so much. As you start to get into the industry, everyone tells you to network, network, and network some more. While I do agree with that - networking is key - I'd recommend that you always walk into a conversation with the goal of building a friendship with that individual, where you are there for them - as much as they are there for you. Create an ecosystem where check-ins are not just when you or they need something but are filled with conversations on how that person is doing and how life is outside of work. As we grow in our careers, our lives grow as well—engagement, families, and the ups and downs that we call life. I am beyond lucky to have many friends that I have met through our industry - that I look up to on a daily basis - and I can't wait to continue to grow together and tackle all of the challenges that may present themselves.
"Like any sport - you're going to get out what you put in, and due to this, practice and reps are everything. You have to fall in love with that process"
Fail Well
When I first started my career, I was so nervous about making mistakes and very eager to please because I felt that perfection was the name of the game in regards to advancing your career. I was…......very wrong. Failure and mistakes are what make you who you are. Scar tissue is key - and makes you stronger. I firmly believe that without some of the lessons that I have learned, whether that be a mentor advising me on a way I could have handled a call differently or a deal falling through at the last moment, I would not be at the stage in my career that I am now. Stay optimistic, don't let anything let you get too down - and always look to see what you can learn from every situation.
Live On A Bridge
I am a huge believer in the fact that 'everyone is going through something. It's true - especially in the world that we are living in today. With that being said, I feel it is incredibly important to always walk into any situation with the goal of seeing it from your side of the bridge (your perspective) - and the other side as well (their perspective). It is those who have the empathy and understanding to hear and see different points of view - whether that is in high-pressure negotiations or just day-to-day conversations - that are able to make a difference.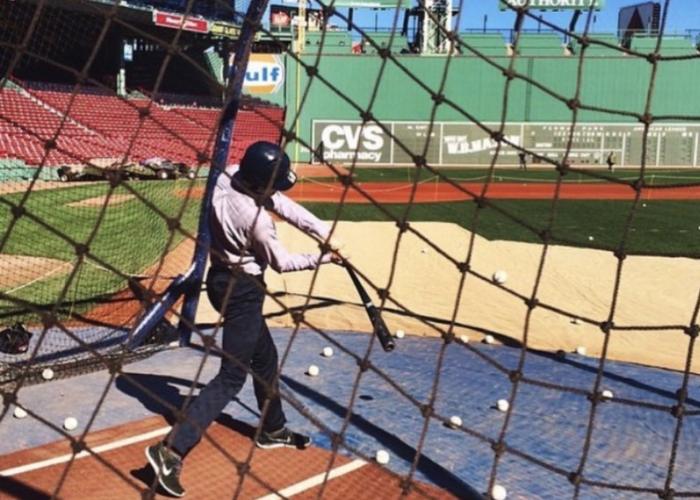 Gregg at Fenway Park
Fall in Love with the Process
I've always felt that work is my new sport. Practicing, always learning, and striving to be the best that I can be. Like any sport - you're going to get out what you put in, and due to this, practice and reps are everything. You have to fall in love with that process - whether that be reading books that teach you something new or taking calls to practice a new method of pitching your product - you have to put in those reps to continue to grow as you embark on your journey.
Have Fun
Never forget to have fun. Take in everything, challenge yourself, and eat hot dogs at every game.
Gregg Clifton is the Director of Sports and Entertainment Partnerships at Omaze, a company that has raised $150M for Nonprofits through once-in-a-lifetime experiences and prizes that anyone can win. Prior to joining Omaze, he was on the Brands team at Wasserman and worked on the Partnership Marketing team at Fenway Sports Management. He is a graduate of the University of San Diego. Gregg is a mentor in theClubhouse and you can schedule a call with him here.