It was 2015, I had just started working for the PGA TOUR, and I was in the process of meeting our athletes and explaining why I had been hired. My elevator speech went something like this:
"Hi, I'm Preston, a former competitive golfer turned Journalist who the TOUR hired to work with you to develop your social media profiles and build your brand online. I can help you get started on any platform and work with you to build an audience that you will eventually be able to monetize."
That doesn't sound crazy today in 2021, but back in 2015, it sometimes felt like I was speaking a foreign language. I had many, many players tell me "thanks, but no thanks" at the time. We had less than half of the TOUR players on Instagram at that point, and many didn't understand the staying power of the platform.
"Whether you're in high school, college, or already a professional, you too can create a sizable audience on social media that you can ultimately monetize."
Fast forward six years later, and we're in a whole new world. Social media isn't just here to stay. It's continued to evolve into a frontline marketing strategy for brands and companies around the world. And, finally, in the last two years, in particular, athletes have started catching up and recognizing the power and influence they have on social media.
If you're an athlete, you're in a unique position. You don't have to act. You don't even have to try hard to create content. You literally just need to be able to post about your life, training, preparation, and performance on the field.
When it comes to building an athlete's audience, this is what I refer to as "fly on the wall" content. An athlete's fans and followers simply want the ability to be a fly on the wall any part of the athlete's life he/she is willing to share.
When I talk to our athletes, I like to keep it really simple and give them three easy + tactical takeaways:
Turn on 2-factor authentication. Hackers will attempt to compromise your account.
Empower someone in your circle (caddie, agent, friend, spouse, etc.) to assist you with posting on social media. It won't be less authentic as long as you're still involved, but I can guarantee you it will take the stress out of posting.
Work with the PGA TOUR Player Content team to gain access to all media available to you while competing in our events.
For athletes - and professionals in particular - they can create an engaging account simply by posting the photos and videos available of them competing in their events. We make every Getty Image and one highlight per day available to PGA TOUR athletes, and we've seen multiple players grow their accounts significantly simply by posting golf-only content.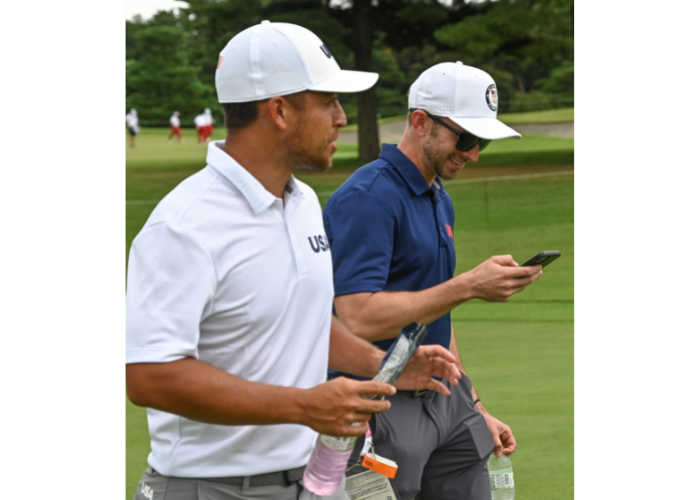 Obviously, the most successful athletes are the ones that combine the on-the-field content with more personal, behind-the-scenes access. However, the point of this post is to showcase how easy it can be in today's world for athletes to build highly engaged audiences.
At the end of the day, athletes in 2021 and beyond find themselves with more resources available than ever before. Whether you're in high school, college, or already a professional, you too can create a sizable audience on social media that you can ultimately monetize. Take advantage of the time now when you are relevant because you never know when things can change!
--
Preston is the Director, Player Content + Strategy at the PGA TOUR. He oversees all content featuring TOUR players and works internally across departments to develop, refine, and implement athlete social media and marketing policies. Prior to the TOUR, Preston worked with AJ Maestas at Navigate Research after graduating from Ohio University with a dual master's degree in Sports Administration and Business Administration. Preston also spent time working with the Memphis Tigers, Memphis Grizzlies, ESPN, and others. Find more of his work at www.prestonmcclellan.com. Preston is also a mentor in theClubhouse. You can schedule a call with him here