Networking is among the most common topics discussed by business executives, teachers, mentors and more. But few truly understand how to network effectively, and even fewer realize the value of preparing for the conversation. My trick? Be purposeful, concise, articulate and realistic. Additionally, share an agenda a few days before with a quick six bullet outline. Here's mine!
1. Introduction
An opportunity for each party to introduce themselves. I focused on some of my broader topics like: my move from Italy, from semi-pro soccer player to collegiate student, community work, aspirations (both life and professionally). However, my segment was brief. I wanted a conversation, not a monologue. By focusing on a few key topics, I was able to fuel an organic conversation and extract the other side's introduction in a natural way.
2. Career path
Be inquisitive! Always learn about the organization and the person you are meeting with. This shows interest and purpose. I would ask questions like: which of your experiences helped launch your career forward? What would you change? What key leadership traits did you learn along the way, and what negative habits did you identify/fix? The goal here is to learn about each person's career path and to determine which fits your passion and ambition.
"You're not asking for a job, you're asking how to get the job."
3. Industry/Team info
A great opportunity to show what you've learned about the company prior to the call. I would ask about the goals of specific platforms, major industry challenges, the club's focus on engaging new and existing fans, and what efforts have been made to capture and study consumption trends. Again, talk less, listen more!
4. Life and sports
The tricky one. My goal here was to dig a bit deeper and try to establish a warmer relationship. From my readings on consumer behavior, sales and marketing strategy, the obvious topic always stands out: people buy on emotions. I needed to extract key emotions to secure the buy. If the first three steps are done correctly, this conversation happens naturally. We would talk about raising a family while working in sports, travel, juggling life and work etc. As I learned about the executive, his/her life and planning methods, I felt we would gradually get closer and bond. One of my favorite moments was when the sport executive mentioned his son loves soccer and wishes to play professionally. Given my soccer past, a few days later I helped facilitate a Skype call with a couple former teammates playing in the Italian Serie A. While I did this to make a 5-year old smile, it cemented our relationship.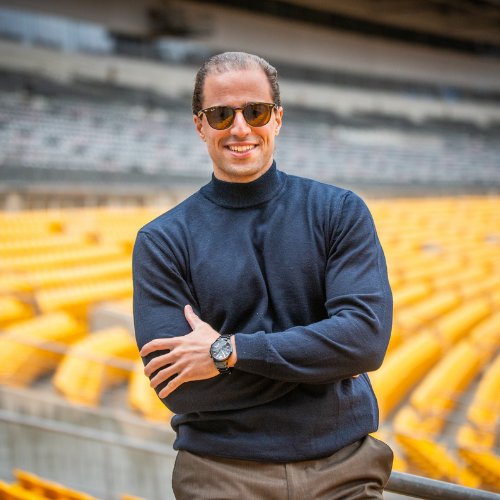 Jonathan at work with the Steelers
5. Opportunities for prospective sport business professionals
This portion is to reinforce the reason for your meeting, to tie your goals together and to conclude the conversation. You're not asking for a job, you're asking how to get the job. This is where you need to carry your learnings from bullet point #2. At this point you know how he/she got there, you've figured out your interests and it is time to dive into the specifics. How do I enter this industry and secure a role in ABC path? Do you foresee any future openings within your organization's ABC department over the next couple months?
6. Schedule a follow-up
Regardless of if there is a future job opening or not, if you feel there is an opportunity to cultivate a relationship, this is your chance to secure it. I've even proposed developing a small research project that could help their business (based on bullet #3). While only 5 of 30+ accepted, it gave me an opportunity to showcase my skills and create another touchpoint. Additionally, this shouldn't be just a one-time conversation. Like in nature, we must continue to water our plants to help them grow. Relationships are no different.
Jonathan Mancuso is currently the Event Marketing Manager at the Pittsburgh Steelers. He was born and raised in Vibo Valentia, Italy. He's a former semi-pro soccer player in the Italian Serie C. He graduated Summa Cum Laude from La Roche University and is pursuing his masters in Sports Business from Temple University. He's a marketing agency founder and consultant and has experience across NHL, MLB and NFL properties in ticket sales, corporate partnership development and marketing. He's also a mentor in theClubhouse! You can schedule a call with him here.