This article was originally written and posted on LinkedIn by Stuart Sokoloff on June 8, 2020.
Sixteen sports internships. Fourteen co-curricular clubs. Vice President of the class. Vice President for Student Ambassadors. Director of Marketing for Sport Management Club. Founding Member and Treasurer for Hillel. Studied Abroad. Dean's List. This may sound like the combination of a few graduating seniors resumes, but these were my achievements when I walked across the stage as I graduated from Springfield College in 2017. I'm writing this not to brag or gloat, but as I cross into my third year working in sports for the Phoenix Suns, I wanted to share my thoughts with anyone looking to break into this unique and enjoyable industry.
I am fortunate enough to speak with professionals and students, both in and out of sports, almost daily. Yes, working for a professional sports team is sexy, and you have the coolest business card in just about any room, but getting there takes a great deal of grit, resilience, good timing, and just a pinch of luck.
What's Your Dream Job?
Ask yourself, "What is my dream job?" Take money out of the equation. For me, my dream was to find a job that I looked forward to getting up for each day. I feel as if I have a paid hobby, rather than a job.
"If you are going into sports for the wrong reasons, it'll show very quickly."
What's Your Why?
You want to work in sports? Think about why you want to work in sports and know your answer may change over time! I wanted to create memories that will last a lifetime for fans. This goal may not seem important initially, but when you get hung up on for the seventy-sixth time in a day, or you're running around on a gameday and you're pushing 14- to 15-hour days, keeping this goal in mind will help you stay motivated and driven. Many people leave the sports field because of burn out. Having that "why" kept close to your chest will keep you centered.
What Department?
Now that you've figured out what motivates you, AND you want to work in sports, you need to decide what part of the industry interests you. Do you want to be an agent, work in sales, be a part of operations, work in accounting? There are hundreds of departments, job titles, and organizations you can work in. Yes, at first it is overwhelming, but think about your strengths. What would you excel in?
Once you've narrowed your interests down to a few departments, reach out to twenty different people who have that job. Don't narrow your focus to one sport, or organization. Contact a variety of people. Utilize LinkedIn, your college alumni networks, Sports Business Solutions Mentorship Program through theClubhouse, and other networking groups. Ask for a fifteen- to twenty-minute call to learn about the individual's path and how they got to where they are. The worst thing you can do on these calls is ask for a job, because everyone does that. (I'll touch on this portion later on).
How to reach out to Industry Pro's
Prepare for your calls. I cannot stress this enough. You are asking for the most valuable asset they have - time. Time is a commodity they cannot get back. Come up with a list of twenty questions. Use this list for all your calls. Work smarter, not harder. Make sure you are asking questions of value because you want to know the answers. Don't ask questions just to ask. To break the ice, figure out what you have in common with the person you are interviewing. Research their company and what is going on in their world (besides the team's record!) Are they building a new stadium, did they recently sign a new client or partner? You are interviewing them, not the other way around.
"When speaking with professionals for the first time, within the first call or two, don't ask for a job… please."
When I went to work for the Baltimore Orioles the summer of my junior year of college, I probably emailed around 100 employees across all departments. I think I heard back from maybe five, but of those five, I had lunch with them and learned from them. I ended up choosing the sales route as a result of one of these lunches.
After speaking with people, the next steps are to do an internship, or even to shadow someone for a day. You'd be surprised how many professionals would love for you to shadow them. You just have to ask. Keep in mind that internships are meant for you to find out what you don't like, rather than what you like. If you think you want to pursue a certain department for your career, try it out for three to four months. If you love it, great. If not, you have saved yourself from starting a career and committing many years in a job you hate.
Following Up
I can count on maybe two hands, in three years, the number of times I have gotten a follow up thank you e-mail or LinkedIn note. It's surprising how few people do it! Whether you have a five-minute conversation, or an hour conversation, or just finished a job interview, follow up with both a thank you over email/LinkedIn and a handwritten note. Yes, it does cost a little bit of money and time, but how badly do you want to be remembered? Handwritten notes are a lost art. If you can write one, you'll be remembered when you go apply for that job you've always dreamed of. Trust me.
When speaking with professionals for the first time, within the first call or two, don't ask for a job… please. You want to build the relationship and seek advice. After you've built trust and a relationship, instead of asking for a job, phrase it as, "Hey I'm starting to apply for jobs, what recommendations would you have?"
Or if you're interested in their organization, try "Hey I'm looking at applying at XYZ company, what recommendations would you have?" The reason professionals might be hesitant to pass along your resume is because they are putting their reputation on the line. This isn't a negative reflection on you if they don't. You might not have built up enough trust with this individual.
Mentors
Mentors are going to help guide and advise you when times may get tough, or when you find yourself completely lost. College is the best time to get mentors because they are part of your college career, and you are more focused on getting advice and experience. It doesn't matter what their position is within an organization, as long as they are genuine and want to help. Your mentor can even be an intern! Remember, interns beat out hundreds of candidates to get that coveted position, and who knows, in twenty years, they could be the president of a team!
Almost no one in sports is in their position without the help and guidance of other people and their mentors. We all want to help! E-mail anyone and everyone because you never know who is going to respond or give you that one piece of advice that may change your life and career. Don't think you're getting ignored if you aren't hearing back from someone. We all get busy at certain points and need to prioritize our to-do list.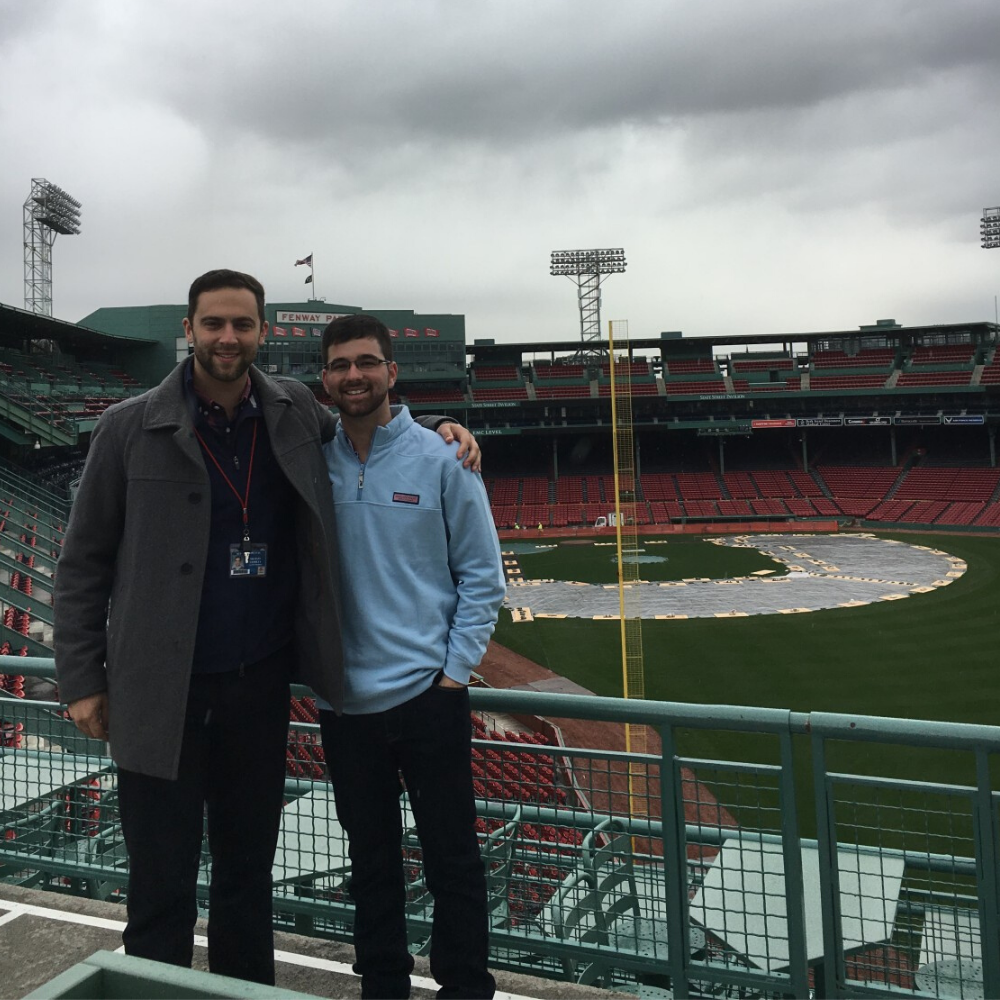 Be Yourself and ENJOY!
If you are going into sports for the wrong reasons, it'll show very quickly. Be yourself and know that all organizations might not be a right fit, and that's ok. Enjoy the process of applying for jobs. If you get rejected, embrace it. Right now, that organization wasn't a right fit. Instead of just wiping your hands clean with them, call back, or e-mail, asking why you didn't get the job or internship, and what you can do to improve for the next interview.
If you're in school, enjoy the freedom! I'm not saying kick your feet back and enjoy, but use your time wisely. There is almost never a time again you'll have four years to be able to work for free, or volunteer for free! But I'm also saying you don't need to overwork yourself, like I did. I bet you think with everything I did in my four years, that I have zero regrets. You'd be wrong. My biggest regret is I didn't enjoy the time I had, the freedom I had.
I know some of this is long-winded, but in closing, everyone's story is different. These are just a few of my thoughts that will hopefully set you up for success as you look to break into the sports industry.
Stuart Sokoloff is an Account Executive in Group Service with the Phoenix Suns. He's a graduate from Springfield College where he received a Bachelor's Degree in Sport Management and Minors in Sports Analytics and Athletic Coaching (Baseball). He has internship experience with the Frederick Keys, the Spalding Hoophall Classic, the Baltimore Orioles and the Goodyear Ballpark (Spring training home of the Indians and Reds). He also has volunteer experience with the National Baseball Hall of Fame as well as the Naismith Memorial Basketball Hall of Fame. He's achieved a great deal of success at a young age in sports and he serves as great inspiration for those starting out in the business. He also has a passion to give back and help others and has donated some time as a mentor in theClubhouse. You can set up a call with Stuart here or you can learn more about him (and connect) on LinkedIn here.